Do: Refinish Hardwood Floors
"It's always fun to hit an old floor." -Paul, owner
Mention Simply SV for $250 off a project of 600+ square feet. Offer ends June 15.
If you follow along on Instagram, you know my family recently moved. The house needed some TLC, so we gave it a facelift before moving in. Now that the work is complete (well, nearly—my mom, a serial remodeler, is known to say, "A house is never finished"), it's time to blog!
To accomplish the home refresh, I partnered with multiple local businesses that I'll be reviewing. First up, The Wood Floor Company.
The cottage's hardwood floor was beat up from decades of wear, tear, chairs, and dog claws. It's astounding that after a simple sanding, a wood floor is made new again. Speaking of, they created ZERO dust while sanding our floor—professionals indeed.
Owner Paul is a craftsman, an artiste with a passion for planks. He told me with excitement, "It's always fun to hit an old floor." Paul and his team worked hard, worked fast, and made sure we were 100% satisfied with the end result. A friend visited who recently refinished his own floors; he was impressed that our floor has no gouges (impressions made from the sander.) This is why you hire a professional for the job.
Sometimes I catch myself staring at the beautiful floor in the morning sunlight. Enjoy the photos, use the comments to ask any questions, and call Paul for wood floor transformation: 408-241-9663. Mention Simply Silicon Valley for $250 off a project of 600+ square feet, offer expires June 15, 2018.
The steps of transformation:
Paul sizes up the job. Call him for a quote, 408-241-9663. Mention Simply SV for $250 off 600+ square feet, expires June 15.
How stunning is this freshly sanded floor! I was tempted to leave it this way, but you can't; it's too vulnerable. They worked clean: no sawdust. None.
Martin, the head workman, showed samples to help us select our stain. Paul offered his design counsel.
Clear finish is applied to protect the floors.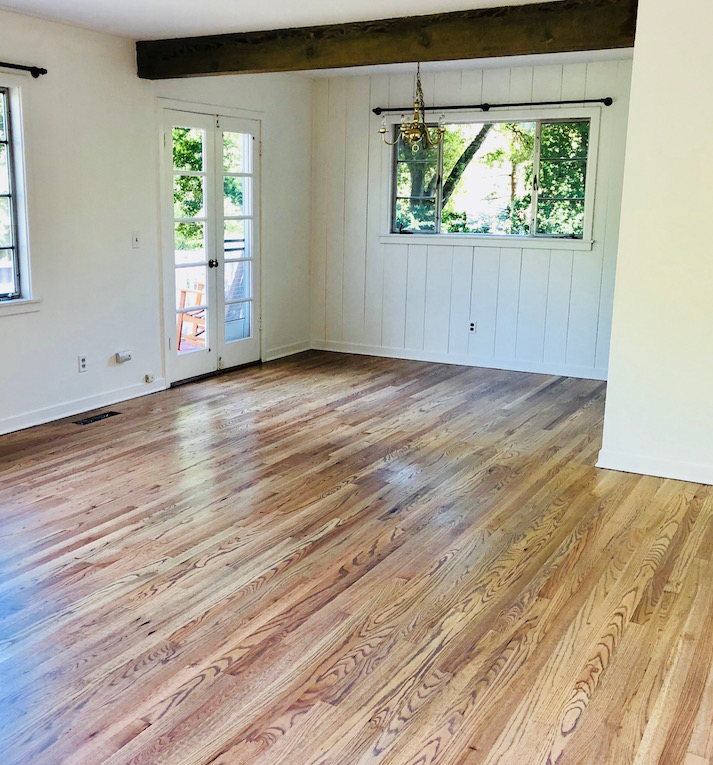 Now it's time to assemble some furniture!